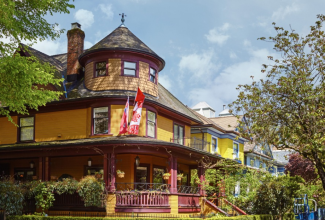 Constructed in 1896, the Rand House is located on 995 Bute Street in Vancouver's infamous west end. The house was originally built for Henry Town, an Englishman who made a fortune in the diamond rush in South Africa in the 1870's. However, the house's name actually comes from Town's brother-in-law, W.J. Edward E. Rand, whom Town's sister Laura was married to. When Town passed away in 1905, the house was left to Laura and Edward Rand who reclaimed the property as their own.
Edward Rand was originally from Canning, Nova Scotia, and moved to British Columbia in 1882 to join his brother in New Westminster. Together, they created the Rand Brothers, which became a successful real estate business in the lower mainland. They worked together until 1897 when Edward bought his brother out of the company and became the sole owner. Today, the company operates as Rand & Fowler Insurance, and it is one of the oldest businesses in Vancouver.
Aside from the business, the house itself has great architectural value. The Rand House is one of the oldest in Vancouver as it was built at the turn of the century. The house stands out as one of the only Queen Anne builds in Vancouver's west end. On its exterior, the house has a wrap-around porch with columns and fish scale shingles. It has a round turret located at the front corner of the home. Its interior is complete with original hardwood fir floors, trim, doors, and hardware.
The architectural presence of the Rand House aligns with the established business connected to its history. The Rand house is both a heritage icon and a symbol of the longevity of the Rand & Fowler name.